DVD

BLU-RAY

CD

TV

DISTRIBUTION

PRESS

LABEL

NEWSLETTER

JOBS
SUCHE
NEWSLETTER
Sign up to our newsletter and be the first to get all the news about Arthaus Musik's releases as well as an access to exclusive offers:
• Information about all releases
• Exclusive event information from our artists
• Your chance to win great DVDs, Blu-rays and editions
sign in
NEWS
21.12.2018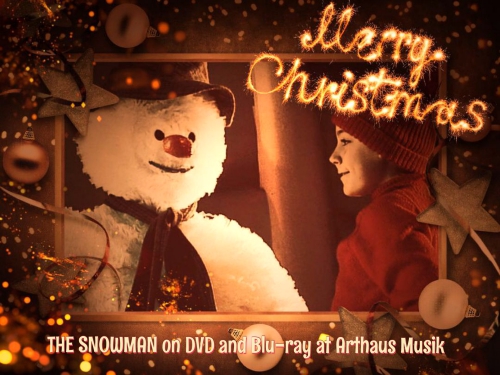 12.12.2018
The finalists for the International Classical Music Awards 2019 were announced. The jury had nominate 319 releases in total. Now the three finalists in each category has been chosen and we are happy that the releases "Pierre Boulez – A Life for Music", directed by Reiner E. Moritz, and "La Voix humaine / Barbe bleue" featuring Barbara Hannigan in the title role belong to the finalists for the awards 2019.
Keep the fingers crossed. The winners will be published on 17 January 2019.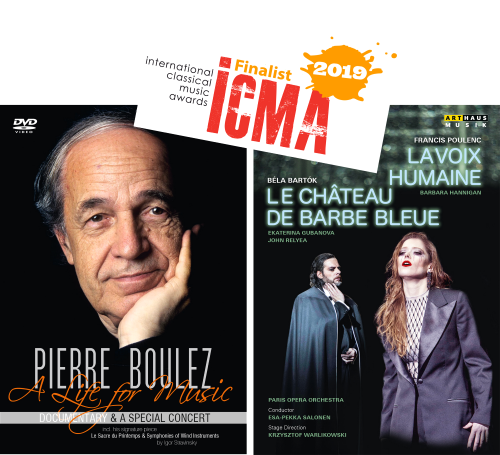 Pierre Boulez – A Life for Music
Filmmaker Reiner Moritz has been working with Pierre Boulez since 1973. When the composer, conductor and essayist passed away in 2016 Moritz decided to call on his friends and colleagues to make available archive footage in order to produce an in depth profile. He was much helped by Boulez´s younger brother, Roger, who shed some light on the childhood and youth of Pierre Boulez and provided photographs from the Boulez-Chevalier archives. Daniel Barenboim, a life-long friend, underlines his importance for the musical life of our time and shares wonderful anecdotes with us.
La Voix humaine / Barbe bleue
The influential director Krzysztof Warlikowski creates an enthralling diptych that has not existed in this form before. He merges the two one-act-operas of Hungary's greatest composer Béla Bartók and the brilliant French composer Francis Poulenc into one amazing work. A great achievement with pure emotions and passion in an excellent interpretation by the exceptional singer Barbara Hannigan in the title role of La Voix Humaine.
05.11.2018
The Life's work of the worldclass piano duo – Güher & Süher Pekinel
Available 26. October 2018
Our Website dedicated to the Treasures-Box of the Pekinel-Sisters has been launched! Listen to the exciting interpretations of the Pekinels and get more information about the extensive edition:
www.treasures-pekinel.com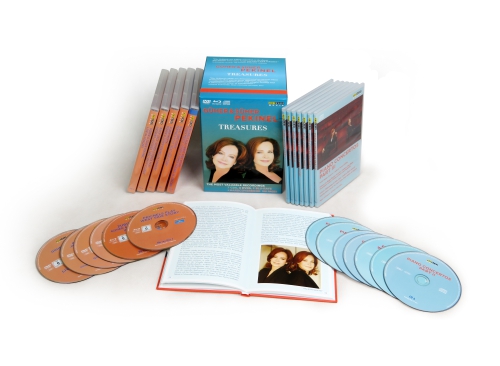 "Music is a transcending world language, allowing every soul to take part in its embracing reachness."
(Güher Pekinel)
"Music is a synthesis of all arts. It enriches deeply the capacity of human soul, to understand the mystery of life."
(Süher Pekinel)
21.08.2018
360° Figaro - The first opera shot in VR
Arthaus Musik presents innovative production in 360°
In the digital age of the 21st century VR gaines an increasing role. Myriad of 360° videos are available, which offers the possibility for the viewer to experience the content as a kind of panorama from every angle and to stay in the middle. According to a statement made by the social network Facebook there are more than one million 360° videos at their own platform
Facebook Surround
available. Even Youtube and Vimeo account an increasing number of uploaded videos. This progress of this innovative technology do not stop at the classical music market, although there are no 360° opera productions available. All the more Arthaus Musik is pleased to present
360° FIGARO
, the first opera shot with series of scenes from the beginning of Act II of Mozart's Figaro in Virtual Reality directed by Jan Schmidt-Garre with a total running time of 20 minutes.
"360° Figaro" is a music film shot in virtual reality: an opera scene, for the first time conceived and staged exclusively for this new medium, live performed both vocally and instrumentally, recorded by a binaural sound recording technique. A series of scenes – coherent in itself – will be taken and shot from the beginning of Act II of Mozart's
Le nozze di Figaro
. The viewer will be placed right in the centre of the performance which is staged exclusively for him.
Starring the soloists: Jacquelyn Wagner (Rosina), Olena Tokar (Susanna), Matthias Hausmann (Graf Almaviva) and Valentina Stadler (Cherubino)
On 21 and 22 August 2018 the recording will be take place at the Studio Halle, the formerly building complex of the 1964 founded Television studio Halle (Fernsehstudio Halle) of the German television broadcasting (Deutscher Fernsehfunk) which was once used by the MDR (Mitteldeutscher Rundfunk) for their television recordings. The set is already constructed. (See photo)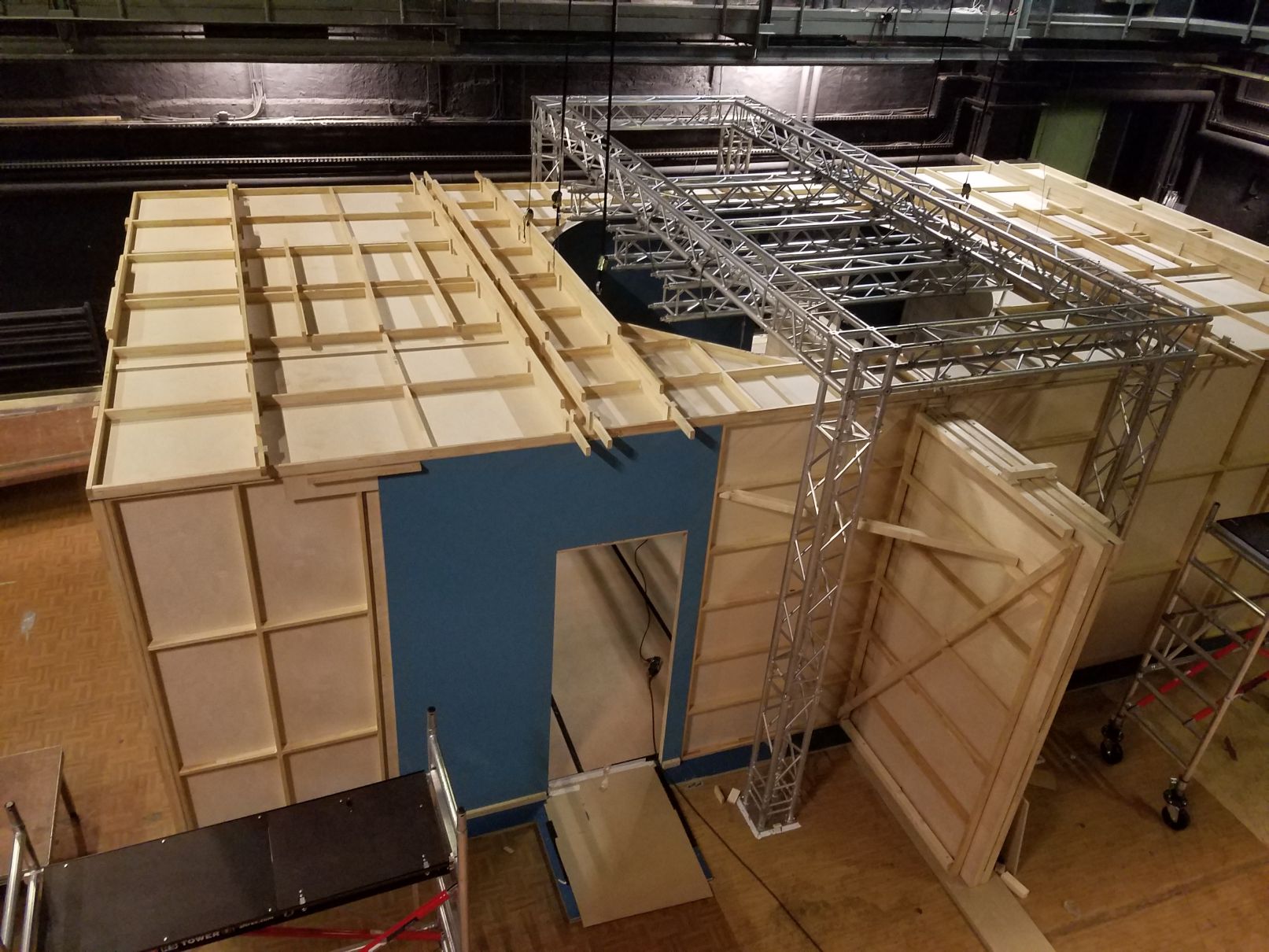 A production of Pars Media in collaboration with the Fraunhofer Institut and digital images GmbH, a post production company which is also located in Halle (Saale) as well as the sister company of Arthaus Musik GmbH. The project was supported by the Land of Saxony-Anhalt.
Pars Media
PARS MEDIA is a production company based in Munich and Berlin specializing in documentary and feature films on classical music, dance and the fine arts. PARS MEDIA's films have been broadcast in over thirty countries and won awards at festivals such as Chicago (Silver Medal), Prague (Czech Chrystal), Paris, Columbus, Monte Carlo, Munich and Berlin (Nomination for the German Film Prize). They have appeared on Laser Disc, VHS, and DVD and many have had theatrical releases. Arthaus Musik released a 15 part series of PARS MEDIA films on DVD.
digital images
The post production company digital images offers customized services for all kinds of media products. As a company certified for all common distribution channels, it exploits high-quality content for platforms such as iTunes, TV, and cinema, as well as for the physical recorded music market. The production portfolio ranges from VFX design, film scanning, and digitalization in 4k/6k HDR up to 70 mm to video and audio restoration, dubbing, subtitling, sound mixing, and color grading.
31.05.2018
Already now available exclusively at jpc! Take a look at our trailer and order your edition here:
DVD
Blu-ray
On the occasion of the 125th anniversary of Sergei Prokofiev in April 2016 the worldwide acknowledged Russian conductor Valery Gergiev featuring the Orchestra of the Mariinsky Theatre and world's leading singer and instrumentalists like Leonidas Kavakos, Denis Matsuev, Sergei Redkin, Daniil Trifonov, Olga Borodina or Mikhail Petrenko performed all masterworks of the composer. A veritable Prokofiev marathon – the public had the chance to enjoy all symphonies, instrumental concerts, major cantatas and oratorios like the expressionistic Seven, they are Seven, the provocative Cantata for the 20th Anniversary of the October Revolution as well as his later masterpieces Alexander Nevsky and Ivan the Terrible in Moscow and St Petersburg on two days. A great project that could not had been possible without the insatiable energy of Valery Gergiev. As special feature of this extensive edition a 90-minute documentary about the life and work of the Russian composer Sergei Prokofiev has been added. The film is mainly based on a true story and shows the similarities between him and Russia's famous conductor Valery Gergiev. After the successful and worldwide acclaimed Shostakovich Cycle the Russian conductor Valery Gergiev performed his second audiovisual masterpiece. There is no comparable product on the market.
25.05.2018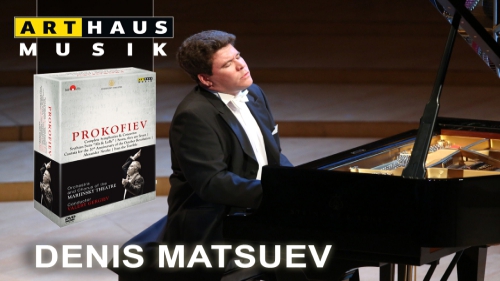 We don't want you to miss the magnificent performance of Prokofievs
Piano Concerto No. 2 in G minor, op. 16
from
Denis Matsuev
conducted by Valery Gergiev. See the whole concert in our upcoming Prokofiev edition which we will release soon.
Denis Matsuev has become a fast-rising star on the international concert stage since his triumphant victory at the 11th International Tchaikovsky Competition in Moscow in 1998, and is quickly establishing himself as one of the most sought after pianists of his generation.
18.05.2018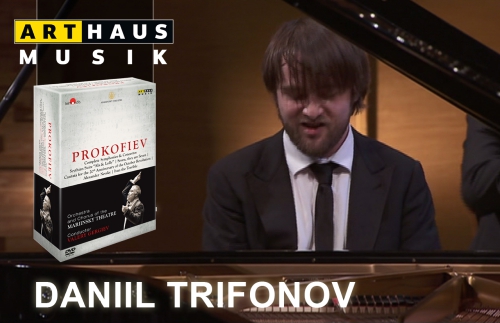 A fabulous and expressive interpretation of Prokofievs
Piano Concerto No. 3 in C major, op. 26
from
Daniil Trifonov
under the baton of
Valery Gergiev
. In just four weeks our Prokofiev Edition including this oustanding performance will be finally available.
The Russian pianist Daniil Trifonov has made a spectacular ascent in the world of classical music since winning First Prize at both the Tchaikovsky and Rubinstein competitions in 2011 at the age of twenty. Combining consummate technique with rare sensitivity and emotional depth, his performances are a perpetual source of awe.
See for yourself.
11.05.2018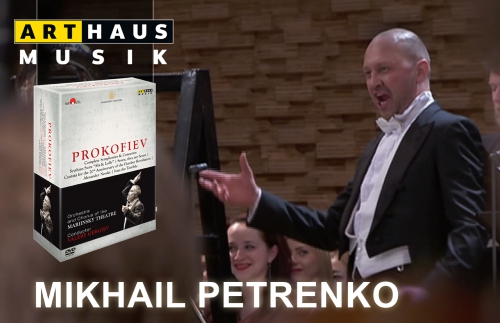 Experience
Mikhail Petrenkos
performing the Oratorio "Ivan the Terrible" in our upcoming PROKOFIEV edition. Only five weeks up to the release.
Mikhail Petrenko was born in St Petersburg and graduated from the St Petersburg State Rimsky-Korsakov Conservatoire in the class of Professor Minzhilkiev. While still a student he was invited to join the Mariinsky Academy of young Singers. He made his debut at the Mariinsky Theatre in Prokofiev's opera
Semyon Kotko
, and since 1998 has been a soloist with the Opera Company. The start of Mikhail Petrenko's international career came with his debut at the Berliner Staatsoper as Hunding
(Die Walküre)
in 2004 under the baton of Daniel Barenboim. Since then, Mikhail Petrenko has been invited to the world's leading opera houses and prestigious opera festivals.
02.05.2018
Congratulation to Valery Gergiev who celebrates his 65th birthday today. Only few weeks until the release of our new PROKOFIEV edition featuring the great conductor. Gergiev conducts Prokofievs masterworks: all symphonies, concertos as well as major cantatas and oratorios.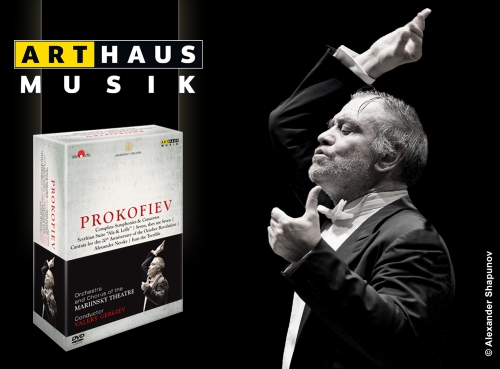 27.04.2018
+++ COMING SOON - AVAILABLE FROM 15 JUNE 2018 +++
This is our new edition with Valery Gergiev conducting the Orchestra of the Mariinsky Theatre. Outstanding performances of all Prokofiev symphonies, concertos as well as major cantatas and oratorios on two days in Moscow and St. Petersburg. Featuring highclass soloists like Daniil Trifonov, Leonidas Kavakos, Olga Borodina, Denis KOZHUKHIN, Denis Matsuev, Vadym Kholodenko, Kristóf Baráti, Sergei Redkin, Alexander Ramm, Alexei Petrenko, Igor Morozov, Yulia Matochkina and Mikhail Petrenko.
26.04.2018

23.03.2018
Out now! OPEN YOUR EARS - WEGE ZUR NEUEN MUSIK
Unique contemporary documents with great composers of the post-war modernism: Krzysztof Penderecki, Hans Werner Henze, György Ligeti, Mauricio Kagel, Isang Yun and Jorg Widmann
Get your edition
Including:
• 6 DVDs with a running time of 400 minutes
• KRZYSZTOF PENDERECKI | Partita for concert cembalo, electric guitar, bass guitar, harp, double bass and orchestra
• HANS WERNER HENZE | Barcarola for a large orchestra
• GYÖRGY LIGETI | San Francisco Polyphony for orchestra
• MAURICIO KAGEL | Quodlibet for a female voice and orchestra after French chanson lyrics from the XV. century
• ISANG YUN | Muak – Dance fantasy for a large orchestra
• JÖRG WIDMANN | Elegie for clarinet and orchestra
• 200 pages book with further essays
The sounding legacy of the great conductor and music educator Gerd Albrecht.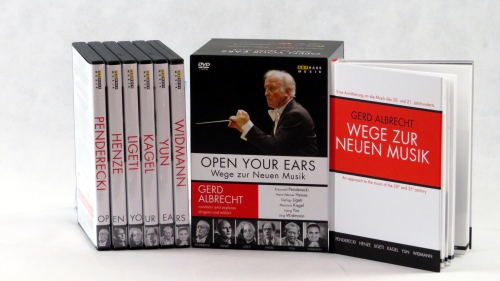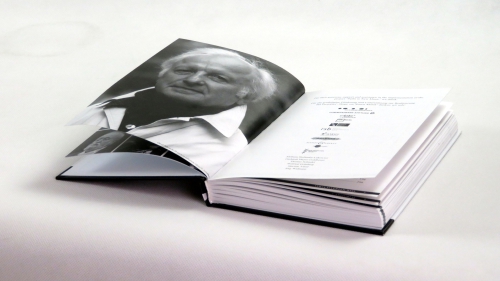 16.03.2018
Many thanks to Jörg Widmann for your statement.
16.03.2018
On 02 March 2018 we presented our new Edition "Open Your Ears - Wege zur Neuen Musik" in cooperation with the
Klingendes Museum Berlin
at the
Brandenburger Tor Museum
. It was a wonderful day in Berlin and the long looked-for result of a fruitful but also hard work since the beginning in September 2011. It was worthwhile and we are proud of this product which is soon available. Only one week until the release.
Thanks to all participants of the presentation - first of all Jorg Widmann, Katharina Albrecht-Stadler, Sabine Zahn, Andreas Göbel and Andreas Lichtschlag and thanks to the Commerzbank-Stiftung. Without their lavish support the Edition has not could be realised.
We want to share some moments from our event.
Photos ©
Philipp von Ostau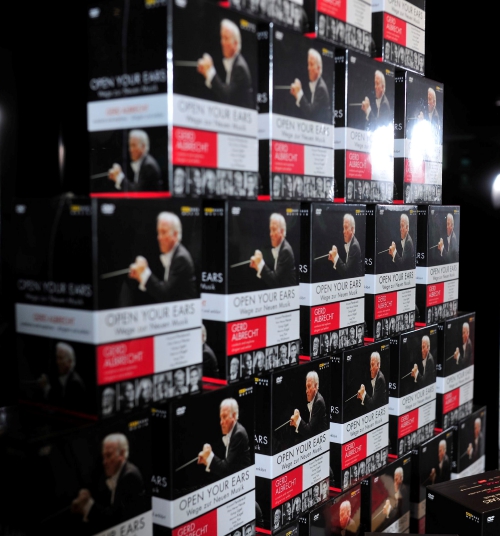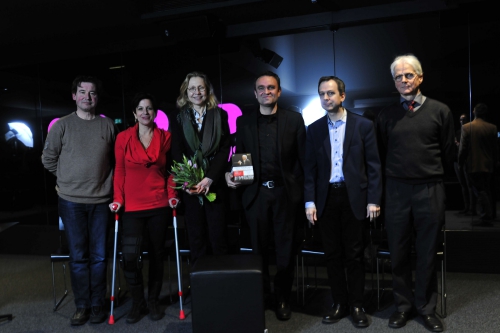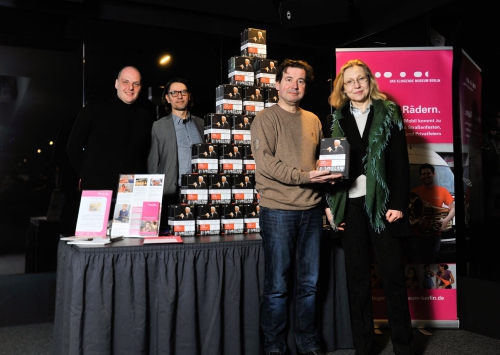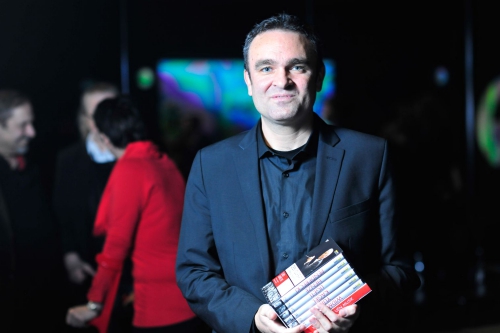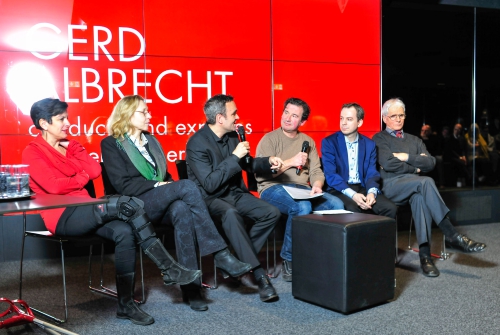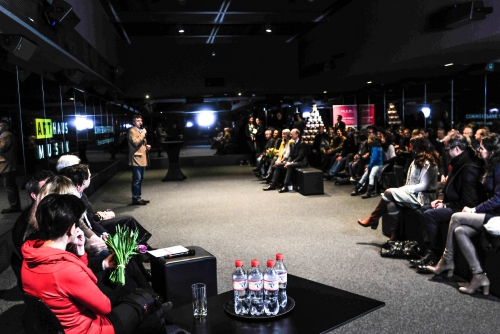 31.01.2018
Arthaus Musik at the Avant Premiere
It's time to meet. Meet us at the Avant Premiere which takes place from 17-21 February 2018 in Berlin!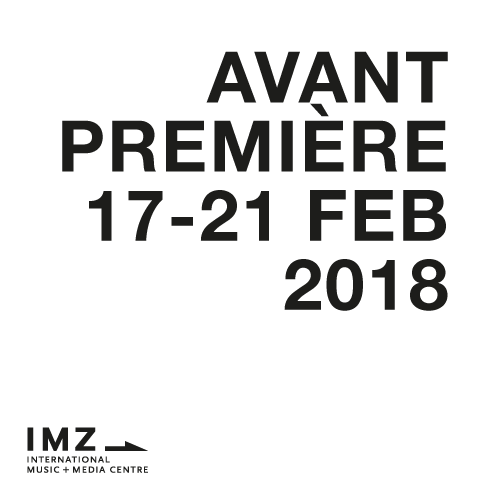 Arthaus Musik will be present at the largest international trade fair for cultural TV content. We present our latest film productions, among them "Luther – An oratorio" which was composed by Oscar Strasnoy, the internationally acclaimed composer of contemporary music, and Christoph Hein, one of the most important German authors, on the occasion of the 500th anniversary of the Reformation – a classical highlight in the Luther decade. The oratorio which is devoted to the life and work of Martin Luther had its premiere on 22./23. October 2017 at the Händel-Halle in Halle. In the second phase the oratorio will be complemented by a subsequent visualisation with further film footage appropriate for the content of the libretto.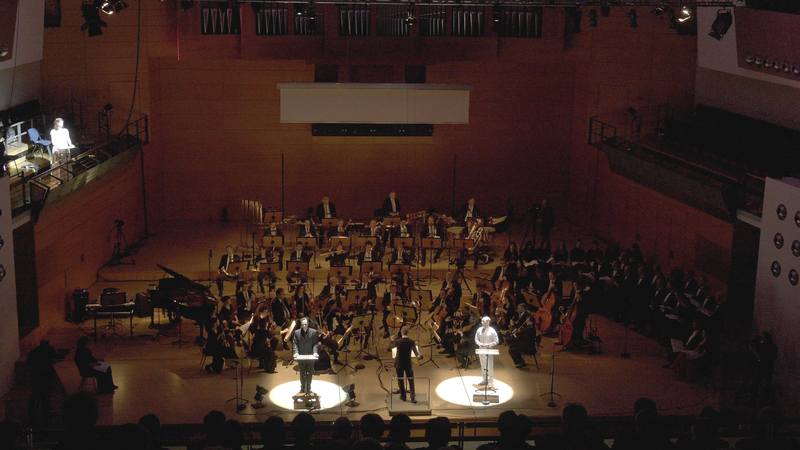 17.01.2018
Coming soon – Prokofiev Cycle featuring Valery Gergiev
After the successful and worldwide acclaimed Shostakovich Cycle the Russian conductor Valery Gergiev performed his second audiovisual masterpiece – PROKOFIEV. It includes the complete symphonic work of Sergei Prokofiev in conjunction with the concerts, major cantatas and oratorios. A brand new production in Moscow and St Petersburg on the occasion of the 125th anniversary of Sergei Prokofiev in April 2016 with outstanding soloists like Daniil Trifonov who was recently awarded with the Annual Prize of the German Record Critics 2017, Leonidas Kavakos, Olga Borodina or Denis Kozhukhin. A great project that could not had been possible without the insatiable energy of Valery Gergiev.
Coming soon at Arthaus Musik!

02.01.2018
"Mondscheinsonate – Die Volkspianistin Elly Ney"
Nomination for the Quarterly Best 1/2018 of the German Record Critic's Award in the category DVD E-Musik
Our extensive edition "Mondscheinsonate – Die Volkspianistin Elly Ney", directed by Axel Fuhrmann (DokFabrik) has been nominated for the German Record Critic's Award. An independent jury of leading german music journalists has been shortlisted the edition as one of the "Quartely Best" of new releases for the first Quarter 2018. The winner will be announced on 15 February 2018. Until then please keep the fingers crossed.br>
Mondscheinsonate
Elly Ney (1882-1968) is a myth, a legend. Some worshipped her as the high priestess of Beethoven, for others she was Hitler's pianist. With the help of contemporary witnesses, experts and music researchers this film explores the real causes for Elly Ney's rapid career as a pianist, her great successes in America and her cultural-political entanglements in the Third Reich. Texts and partly unpublished footage complete the film and audio productions about one of the most prominent and controversial pianist of the 20th century. An exciting search for traces in the life and work of Elly Ney.
01.01.2018
Happy New Year from Arthaus Musik!

CATALOGUE 2018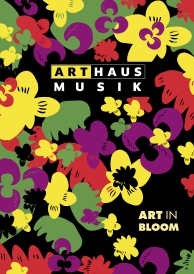 PDF Download (5,5 MB)
CATALOGUE 15/16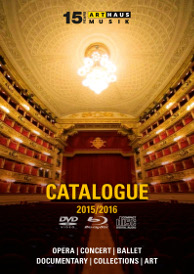 PDF Download (6,7 MB)